Oncology Research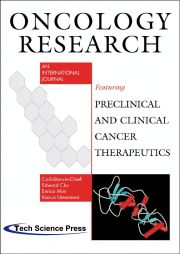 ISSN: 0965-0407 (print)

Impact Factor: 5.574 (2020)

ISSN: 1555-3906 (online)

Publication Frequency: Bi-monthly
About the Journal
Oncology Research publishes research of the highest quality that contributes to an understanding of cancer in areas of molecular biology, cell biology, biochemistry, biophysics, genetics, biology, endocrinology, and immunology, as well as studies on the mechanism of action of carcinogens and therapeutic agents, reports dealing with cancer prevention and epidemiology, and clinical trials delineating effective new therapeutic regimens.
Indexing and Abstracting
Science Citation Index Expanded (Clarivate Analytics): 2020 Impact Factor: 5.574; Scopus CiteScore (Impact per Publication 2021): 11.8; SNIP (Source Normalized Impact per Paper 2021): 0.898; Journal Citation Report/Science Edition (JCR); etc.

From Vol. 29, No.2, Oncology Research is published by Tech Science Press. To access the past issues of Oncologie Research, please visit Ingenta Connect (https://www.ingentaconnect.com/content/cog/or).

The COVID-19 epidemic has caused a delay in our paper publication. We anticipate that we shall return to our regular publication schedule in the next few weeks or even sooner. Please accept our sincere apologies for any inconvenience may have caused.