BIOCELL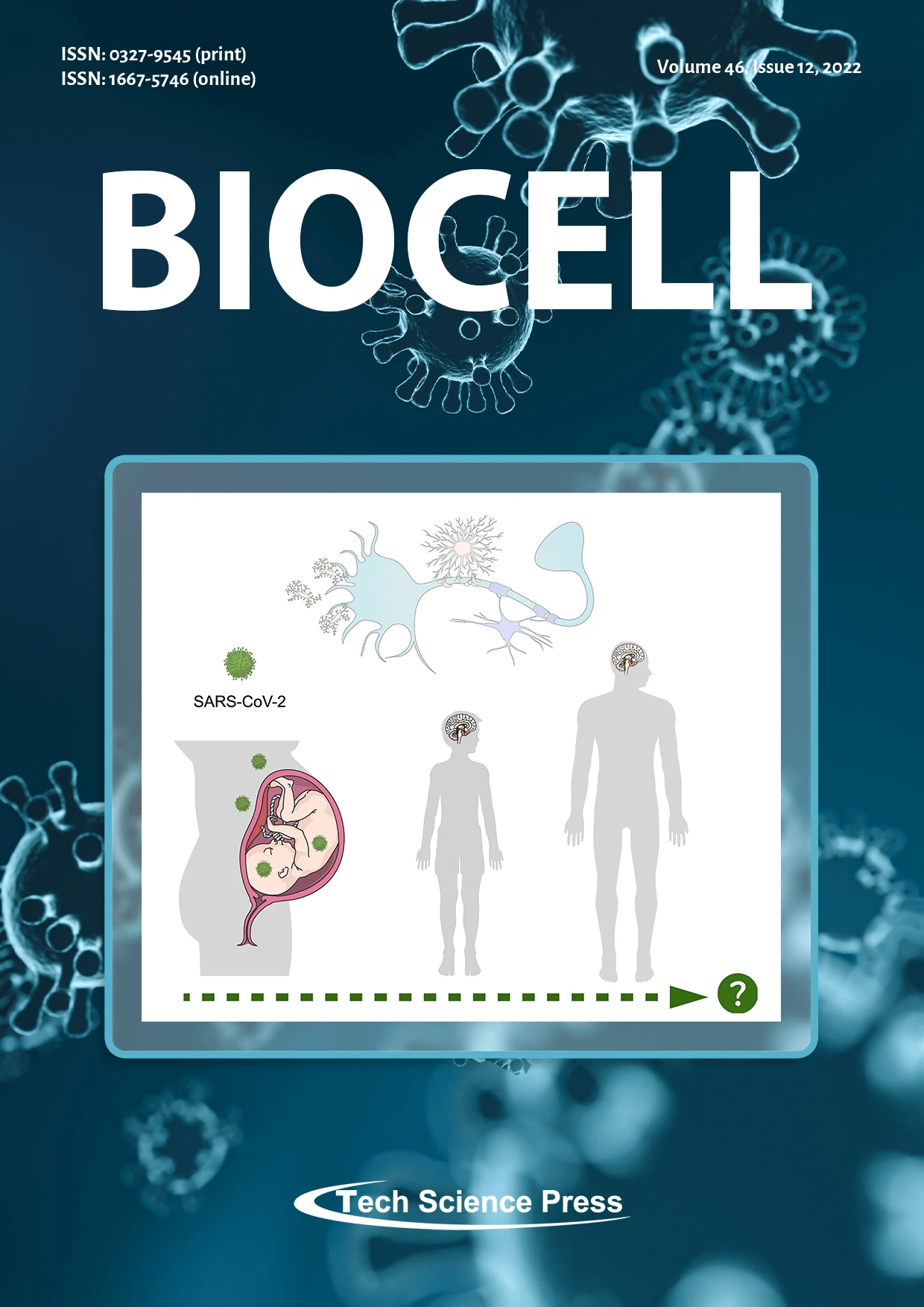 ISSN: 0327-9545 (print)

Impact Factor: 1.11

ISSN: 1667-5746 (online)

Publication Frequency: Monthly
About the Journal
BIOCELL is an international, peer-reviewed, open access journal on molecular and cellular biosciences. The journal welcomes high quality original research articles, review papers, communications, perspectives, commentaries, etc. Topics of interests include but are not limited to: Cellular Biochemistry, Structural & Molecular Biology, Cellular/Molecular Biology, Immunology, Pathology & Neurobiology, Cell Signaling, Regenerative Biology & Stem Cells, Cancer Biology, RNA Biology, Genomics, Transcriptomics, Proteomics & Metabolomics, Plant Molecular & Cellular Biology.
Indexing and Abstracting
Science Citation Index Expanded (SCIE): 2021 Impact Factor 1.11; Journal Citation Report/Science Edition (JCR); Scopus; Scopus Citescore (Impact per Publication 2021): 1.0; SNIP (Source Normalized Impact per Paper 2021): 0.388; Sociedad Argentina de Investigaciones en Bioquímica y Biología Molecular (SAIB); Portico, etc.
OPEN ACCESS

VIEWPOINT

Impact of SARS-CoV-2 infection during pregnancy on postnatal brain development: The potential role of glial cells
LARISSA DANIELE BOBERMIN1,*, LARA SCOPEL MEDEIROS2, FERNANDA WEBER2, GIANCARLO TOMAZZONI DE OLIVEIRA2, LUCÉLIA SANTI3,4,5, WALTER ORLANDO BEYS-DA-SILVA3,4,5, CARLOS-ALBERTO GONÇALVES1,2,6, ANDRÉ QUINCOZES-SANTOS1,2,6

BIOCELL, Vol.46, No.12, pp. 2517-2523, 2022, DOI:10.32604/biocell.2022.021566

Abstract Glial cells are crucial for maintaining central nervous system (CNS) homeostasis. They actively participate in immune responses, as well as form functional barriers, such as blood-brain barrier (BBB), which restrict the entry of pathogens and inflammatory mediators into the CNS. In general, viral infections during the gestational period can alter the embryonic and fetal environment, and the related inflammatory response may affect neurodevelopment and lead to behavioral dysfunction during later stage of life, as highlighted by our group for Zika virus infection. Severe acute respiratory syndrome coronavirus-2 (SARS-CoV-2) induces a cytokine storm and, during pregnancy, may be related to a… More
OPEN ACCESS

VIEWPOINT

MONICA SAVIO, VALENTINA MINOIA, PAOLA FULGHIERI, LUCIA ANNA STIVALA*, VIRGINIE SOTTILE*

BIOCELL, Vol.46, No.12, pp. 2525-2530, 2022, DOI:10.32604/biocell.2022.022924

Abstract The nutraceutical resveratrol is associated with a range of biological effects, from antibiotic to anti-inflammatory activities. One major axis of research has sought to harness its anti-tumour potential, with promising preclinical results and early clinical trials. A second strong interest relies on the anti-ageing effects ascribed to the compound and its application to stem cell research. It is becoming clear however that these possible favourable effects are conditioned by a set concentration range not easily controllable in vivo. Here we evoke novel developments in the field that could lead to more reliable conditions for the translational use of resveratrol-based compounds. More
OPEN ACCESS

VIEWPOINT

Poly(ADP-ribose), adherens junctions, vinculin and the actin cytoskeleton: Current evidence, future perspectives and implications
LAURA LAFON-HUGHES1,2,*

BIOCELL, Vol.46, No.12, pp. 2531-2535, 2022, DOI:10.32604/biocell.2022.022713

Abstract Poly(ADP-ribose) (PAR) is a highly negatively charged polymer. PAR is synthesized by poly(ADP-ribose)polymerases (PARPs) and is involved in the assembly and stabilization of macromolecular complexes. Here, the presence and putative roles of poly(ADP-ribosyl)ation (PARylation) associated to adherens junctions (AJ) and the actin cytoskeleton in epithelial and Schwann cells, is reviewed. The hypothesis generated by analogy, stating that PAR is associated to AJ in other cell types, is postulated. According to this hypothesis, PAR associated to puncta adherentia in chemical synapses would participate in plasticity, learning and memory. In turn, PAR associated to fascia adherens in cardiomyocytes, would affect heart beating.… More
OPEN ACCESS

REVIEW

RAHELEH TORABI1, ABBAS ALI REZVANIPOUR2, HADI ESMAEILI GOUVARCHINGHALEH3, REZA RANJBAR4,*, MOHAMMAD HEIAT2,*

BIOCELL, Vol.46, No.12, pp. 2537-2557, 2022, DOI:10.32604/biocell.2022.021373

Abstract Ochratoxin A (OTA), one of the most dangerous mycotoxins for human health, has been subjected to numerous studies for separation and detection in minimal amounts. Aptamers as novel recognition elements have been employed to fabricate ultrasensitive biosensors for the detection of OTA and designing delicate analytical tools. This review attempted to comprehensively examine all reported aptamer-based detection and separation platforms for ochratoxin. The most relevant databases were considered to discover all specific aptamers for dealing with OTA. Aptamer-based detection and separation devices specified for OTA were searched for, analyzed, discussed, and classified based on their specifications. The optical aptasensors have… More
OPEN ACCESS

REVIEW

Advances in the studies on symbiotic arbuscular mycorrhizal fungi of traditional Chinese medicinal plants
LIMIN YU1,2, ZHONGFENG ZHANG2,*, LONGWU ZHOU2

BIOCELL, Vol.46, No.12, pp. 2559-2573, 2022, DOI:10.32604/biocell.2022.022825

(This article belongs to this Special Issue: Mycorrhizal Fungal Roles in Stress Tolerance of Plants)
Abstract

Arbuscular mycorrhizal (AM) fungi reside in the rhizosphere and form mutualistic associations with plant roots. They promote photosynthesis, improve stress resistance, and induce secondary metabolite biosynthesis in host medicinal plants. The AM fungi that are symbiotic with medicinal plants comprise a wide array of species and have abundant germplasm resources. Though research on the AM fungi in medicinal plants began relatively recently, it has nonetheless become an investigative hot spot. Several scholars have explored the diversity and the growth-promoting effects of mycorrhizal fungi in hundreds of medicinal plants. Current research on symbiotic AM fungi in medicinal plants has focused mainly… More
OPEN ACCESS

ARTICLE

Effects of arbuscular mycorrhizal fungi and plant growth-promoting rhizobacteria on growth and reactive oxygen metabolism of tomato fruits under low saline conditions
WEI ZHOU, MENGMENG ZHANG, KEZHANG TAO, XIANCAN ZHU*

BIOCELL, Vol.46, No.12, pp. 2575-2582, 2022, DOI:10.32604/biocell.2022.021910

(This article belongs to this Special Issue: Mycorrhizal Fungal Roles in Stress Tolerance of Plants)
Abstract Land salinization is a major form of land degradation, which is not conducive to the growth and quality of fruits and vegetables. Plant salt tolerance can be enhanced by arbuscular mycorrhizal fungi (AMF) or plant growth-promoting rhizobacteria (PGPR). This study examined the effects of inoculation with PGPR singly or in combination with AMF, on the growth and quality of tomato fruits under low saline conditions. Tomatoes were cultivated in a greenhouse with sterilized soil, inoculated with PGPR, AMF, or co-inoculated with PGPR and AMF, and NaCl solution (1%) was added to the soil. The results indicated that AMF + PGPR… More
OPEN ACCESS

ARTICLE

EKHLAQUE A. KHAN1,2,*, HAMDINO M. I. AHMED3, MEENA MISRA1, PALLAVI SHARMA1,4, AMARENDRA N. MISRA1,5, MIRZA HASANUZZAMAN6,*

BIOCELL, Vol.46, No.12, pp. 2583-2593, 2022, DOI:10.32604/biocell.2022.021732

(This article belongs to this Special Issue: Physiology and Molecular Biology of Plant Stress Tolerance)
Abstract

Cadmium (Cd) causes oxidative stress, which leads to the oxidation of various biomolecules by the production of reactive oxygen species (ROS) to facilitate programmed cell death (PCD). The antioxidant defense system fails to detoxify ROS when it is produced in excess. Nitric oxide (NO), a gaseous free radical and a phytohormone, regulates various physiological processes of plants. Therefore, this work was undertaken to study the effects of the application of exogenous sodium nitroprusside (SNP, a NO donor) on growth parameters, oxidative stress, accumulation of secondary metabolites, and activities of antioxidant enzymes under Cd stress. Mild (50 µM) and severe (200… More
OPEN ACCESS

ARTICLE

XINTING ZHU1,2,#, MENG YE2,3,#, KELAN FANG1, FANG LIU1,2, JING HUI1,2, MEICHEN LIU2, XIAOFEI LI1,2, RONG YAN1,2,*, Yun Liu1,2,4,*

BIOCELL, Vol.46, No.12, pp. 2595-2600, 2022, DOI:10.32604/biocell.2022.025468

(This article belongs to this Special Issue: Herbal Active Ingredients: Potential for the Prevention and Treatment of Cancer)
Abstract Cantharidin (CTD) is a bioactive ingredient isolated from Cantharis vesicatoria (blister beetles), which has potential therapeutic value as an anticancer agent. Magnesium Demethylcantharidate (MDC) is a recently developed derivative of Cantharidin (CTD), and previous studies have illustrated its excellent anticancer activity on HCC cells. However, the effect and mechanism of MDC remains unclear and need to be further studied. In particular, whether MDC can cause ER stress in HCC is still unknown. In this study, we demonstrated that endoplasmic reticulum stress (ERS)-related proteins were changed in SMMC-7721 and Bel-7402 cells after being exposed to MDC. Moreover, we found that MDC… More
OPEN ACCESS

ARTICLE

Development of a prognostic signature for esophageal cancer based on a novel 7-DNA damage repair genes signature
JIAMING ZHAN, WEIHUA WANG, YANLEI TANG, NING ZHOU, DAOWEN JIANG*

BIOCELL, Vol.46, No.12, pp. 2601-2613, 2022, DOI:10.32604/biocell.2022.021300

(This article belongs to this Special Issue: Identification of Genetic and Epigenetic Markers for Complex Diseases via Integrating Multistage Biological Data)
Abstract Esophageal cancer (EC) was an aggressive malignant neoplasm characterized by high morbidity and poor prognosis. Identifying the changes in DNA damage repair genes helps to better understand the mechanisms of carcinoma progression. In this study, by comparing EC samples and normal samples, we found a total of 132 DDR expression with a significant difference. Moreover, we revealed higher expression of POLN, PALB2, ATM, PER1, TOP3B and lower expression of HMGB1, UBE2B were correlated to longer OS in EC. In addition, a prognostic risk score based on 7 DDR gene expression (POLN, HMGB1, TOP3B, PER1, UBE2B, ATM, PALB2) was constructed for… More
OPEN ACCESS

ARTICLE

The characterization of transmembrane protein 59-like (TMEM59L) reveals its role in the regulating the level of the GDI protein family
HAIFENG WANG1,2,*, JUAN GUO1, TIEQIAO WEN2,*

BIOCELL, Vol.46, No.12, pp. 2615-2624, 2022, DOI:10.32604/biocell.2022.021247

Abstract The characterization and functions of transmembrane protein 59-like (TMEM59L), a type I transmembrane protein, are not clearly understood until now. Some TMEM59L and fluorescent fusion proteins constructs were transfected in cell lines and liposomes, and their localization was observed. The effects of protein constructs were studied by fluorescence microscopy and western blotting. This study reports a novel function of human TMEM59L (hTMEM59L) related to the expression and location of some proteins. In addition, we report two novel splice variants of human TMEM59L (hTMEM59L). The localization of mutants of this protein, lacking a middle region, and a C-terminal deletion, markedly differed… More
OPEN ACCESS

ARTICLE

Diagnostic and prognostic significance of the lymphocyte/C-reactive protein ratio, neutrophil/lymphocyte ratio, and D-dimer values in patients with COVID-19
ALPASLAN OZTURK1,*, MEHMET KARA2

BIOCELL, Vol.46, No.12, pp. 2625-2635, 2022, DOI:10.32604/biocell.2022.023124

(This article belongs to this Special Issue: Biochemical and Epigenetics Changes in Health and Disease)
Abstract In this study, our aim was to examine the diagnostic and prognostic significance of lymphocyte/C-reactive protein ratio (LCR), neutrophil/lymphocyte ratio (NLR) and D-dimer parameters in COVID-19 infection. The LCR, NLR, neutrophil count, mean platelet volume (MPV), C-reactive protein (CRP), and D-dimer parameters were evaluated retrospectively. This was a retrospective cohort study with 1000 COVID-19 positive and 1000 healthy control groups, all over the age of 18 years. Odds ratio (OR) and 95% confidence interval (CI) values were calculated for each parameter found to be statistically significant in the univariate and multivariate logistic regression models. Herein, 127 (12.7%) of the COVID-19+… More
OPEN ACCESS

ARTICLE

XINLU GAO1,2,#, XIUXIU WANG1,2,#, WENWEN ZHANG1,2,#, HANJING LI1,2, FAN YANG2,3, WENYA MA2, YU LIU1,*

BIOCELL, Vol.46, No.12, pp. 2637-2644, 2022, DOI:10.32604/biocell.2022.021033

(This article belongs to this Special Issue: Mitochondrial Form and Function)
Abstract Photobiomodulation (PBM) has been shown to delay the pathological process of heart failure, but the exact mechanism of action is not clear. Mitochondria occupy one-third of the volume of mammalian cardiomyocytes (CMs) and are central transport stations for CM energy metabolism. Therefore, in this study, we explored the regulatory effects of 630 nm light-emitting diodes (LED-Red) on the mitochondria of CMs. The results show that LED-Red-based PBM promotes adenosine triphosphate (ATP) synthesis by upregulating the expression of glycolipid metabolizing enzymes. Correspondingly, there was an improvement in the activity of succinate dehydrogenase (SDH), a key enzyme in the mitochondrial electron transport… More
OPEN ACCESS

ARTICLE

Anti-cancer effects of sitagliptin, vildagliptin, and exendin-4 on triple-negative breast cancer cells via mitochondrial modulation
POOJA JAISWAL1, VERSHA TRIPATHI1, ANSHUL ASSAIYA2, DHARMENDRA KASHYAP3, RAHUL DUBEY4, ANAMIKA SINGH4, JANESH KUMAR2, HEM CHANDRA JHA3, RAJESH SHARMA5, AMIT KUMAR DIXIT6, HAMENDRA SINGH PARMAR1,*

BIOCELL, Vol.46, No.12, pp. 2645-2657, 2022, DOI:10.32604/biocell.2022.021754

(This article belongs to this Special Issue: Mitochondrial Signaling and Metabolism in Cancer)
Abstract Triple-negative breast cancer (TNBC) cell line MDA-MB-231 is known for Warburg metabolism and defects in mitochondria. On the other hand, dipeptidyl peptidase-IV (DPP-IV) inhibitors such as sitagliptin and vildagliptin and GLP-1 agonist exendin-4 are known to improve mitochondrial functions as well as biogenesis, but no study has evaluated the influence of these drugs on mitochondrial biogenesis on metastatic breast cancer cell line. We have recently reported anticancer effects of 5-aminoimidazole-4-carboxamide riboside on MDA-MB-231 cells via activation of AMP-dependent kinase (AMPK), which activates the downstream transcription factors PGC-1α, PGC-1β, or FOXO1 for mitochondrial biogenesis; above-mentioned incretin-based therapies are also known to… More
OPEN ACCESS

ARTICLE

FEI LIU1, JIAZHANG WEI2, JIAO LAN1, YONGLI WANG2, JIANXIANG YE3, CHENG Su1, MINGZHENG MO1, FENGZHU TANG2, BING LI2, MIN LI2, WEIMING DENG2, LINSONG YE2, Wenlin HUANG2, JINGJIN WENG2, WEI JIAO1,*, SHENHONG QU2,*

BIOCELL, Vol.46, No.12, pp. 2659-2669, 2022, DOI:10.32604/biocell.2022.022886

(This article belongs to this Special Issue: Tissue Engineering, Cellular Therapy and Biotechnologies in Plastic Surgery)
Abstract Our previous studies suggested a potential interaction between the POK erythroid myeloid ontogenic factor ZBTB7A and glucose transporter 1 (GLUT1) in nasopharyngeal carcinoma (NPC). This study was designed to confirm the interaction and further evaluate the precise mechanism by which ZBTB7A and GLUT1 regulate NPC development. The binding sites between ZBTB7A and the promoter of GLUT1 were predicted by bioinformatics. Gene expression was measured by quantitative real-time polymerase chain reaction (qPCR), western blotting, and immunohistochemistry. The activities of key glycolysis enzymes, including hexokinase (HK), pyruvate kinase (PK), lactate dehydrogenase (LDH), and lactate, were detected using specific enzyme-linked immunosorbent assay kits.… More
OPEN ACCESS

ARTICLE

Effect of Peroxiredoxin 1 on the biological function of airway epithelial cells and epithelial-mesenchymal transition
HUOGEN LIU#, YUNDI SHI#, XIN WAN, YING LIU, HAILIN SHU, FENGMING HUANG, ZHENBIN GONG, LING GU*

BIOCELL, Vol.46, No.12, pp. 2671-2680, 2022, DOI:10.32604/biocell.2022.018054

(This article belongs to this Special Issue: Single Cell Technologies and Molecular Mechanisms of Diseases)
Abstract Peroxiredoxin 1 (PRDX1) participates in tumor cell proliferation, apoptosis, migration, invasion, and the epithelial-to-mesenchymal transition (EMT). This study aimed to investigate the effect of PRDX1 on the EMT of airway epithelial cells stimulated with lipopolysaccharide (LPS) and transforming growth factor-beta 1 (TGF-β1). PRDX1 overexpression significantly increased the proliferation and migration of human bronchial epithelial (BEAS-2B) cells, reduced cell apoptosis (p < 0.01), and induced EMT and collagen deposition by upregulating the expression of the matrix metallopeptidase (MMP)2, MMP9, α-smooth muscle actin (α-SMA), N-cadherin, vimentin and twist proteins and inhibiting E-cadherin expression (p < 0.05). PRDX1 overexpression promoted TGF-β1-mediated inhibition of… More
OPEN ACCESS

ARTICLE

Pharmacotherapeutics and molecular docking studies of alpha-synuclein modulators as promising therapeutics for Parkinson's disease
RAHAT ALI1, AFTAB ALAM2, SATYENDRA K. RAJPUT3, RAZI AHMAD4,*

BIOCELL, Vol.46, No.12, pp. 2681-2694, 2022, DOI:10.32604/biocell.2022.021224

Abstract Parkinson's disease (PD) is an age-related neurodegenerative ailment that affects dopamine-producing neurons in a specific area of the brain called the substantia nigra of the ventral midbrain. It is clinically characterized by movement disorder and marked with unusual synaptic protein alpha-synuclein accumulation in the brain. To date, only a few Food and Drug Administration (FDA) approved drugs are available on the market for the treatment of PD. Nonetheless, these drugs show parasympathomimetic related adverse events and remarkably higher toxicity; hence, it is important to find more efficacious molecules to treat PD. In our study, We chosen 22 natural compounds as… More
OPEN ACCESS

VIEWPOINT

SONIA MORETTI, FLAVIA MANCINI, ALESSANDRA BORSETTI*

BIOCELL, Vol.46, No.12, pp. 2695-2699, 2022, DOI:10.32604/biocell.2022.022257

Abstract Direct-acting antiviral (DAA) therapies are efficacious for the achievement of sustained virologic response (SVR) in almost all treated hepatitis C virus (HCV)-infected patients. However, the impacts of HCV eradication on immune function and chronic immune activation in the long-term remain controversial and limited, especially in patients co-infected with human immunodeficiency virus (HIV). Indeed, although restoration of many immune responses clearly can be observed, several features of immune perturbations persist over time after HCV clearance. Understanding the degree and reasons of the partial recovery of the immune system in chronic HCV/HIV co-infection after HCV elimination is pivotal to avoid disease progression… More
OPEN ACCESS

VIEWPOINT

JÉRÔME LALOZE1,2, ALEXIS DESMOULIÈRE1,*

BIOCELL, Vol.46, No.12, pp. 2701-2704, 2022, DOI:10.32604/biocell.2022.022229

(This article belongs to this Special Issue: Mesenchymal Stem Cells, Secretome and Biomaterials: Regenerative Medicine Application)
Abstract Advances in regenerative medicine correlate strongly with progress in the use of adipose tissue-derived mesenchymal stem/stromal cells. The range of therapeutic indications has also expanded over recent years. Numerous recent studies have highlighted the primary importance of paracrine secretion by these cells. Though it is interesting to compare the different types of such secretions, we believe that exosomes (extra-cellular vesicles possessing the same properties as their source cells) will likely be the main key in tomorrow's cell therapy. Exosomes also have many advantages compared to the direct use of cells, making these particles a major target in fundamental and translational… More